All but one of the 'Raytheon 9' war resisters were acquitted by a Belfast jury yesterday of all charges.
In August 2006 Colm Bryce, Gary Donnelly, Kieran Gallagher, Michael Gallagher, Sean Heaton, Jimmy Kelly, Eamonn McCann, Paddy McDaid and Eamonn O'Donnell broke into the Derry offices of US arms manufacturer Raytheon (pictured right) and defenestrated computers and files, causing an estimated £20,000 damage.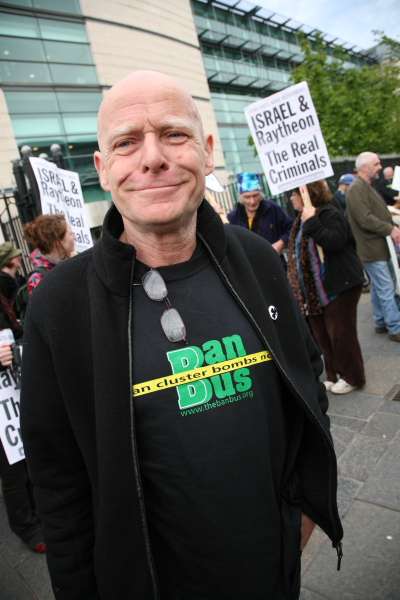 One of the group, 65 year-old journalist Eamonn McCann (pictured left), was found guilty of theft for taking some of the company's computer discs. He received a 12-month suspended sentence.
Their professed intention and legal defence was to prevent war crimes then occurring in the war between Israel and Hezbollah in Lebanon.
What the prosecution described as an "orgy of wanton destruction," the jury accepted as justified, deeming reasonable the belief that "Raytheon was aiding and abetting the commission of war crimes, having seen how Raytheon's lethal technology was being used to destroy the homes and lives of innocents in Lebanon."
Said acquitted activist Colm Bryce following the court victory :
"These crimes continue daily and hourly in the Middle East. It is up to those of us who oppose those wars of domination and occupation to build a movement that matches the enormity of what is being done by Western governments. We hope that this victory gives courage and heart to all those involved in that movement . . ."