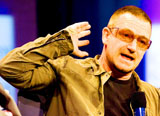 Last month at the UN General Assembly, rock legend Bono lamented that for ten years he has begged the G8 for US$25 billion to relieve hunger and disease in Africa, with limited success. Suddenly, the United States has $700 billion to spend on Wall Street.
Nobel Laureate Joseph Stiglitz estimates that the US bailout package is "equivalent to the amount that developed nations give in foreign aid to developing nations over a decade."
The Group of Eight (G8), composed of France, Germany, Italy, Japan, the UK, US, Canada and Russia, was formed in 1973 in response to another economic and energy crisis: the OPEC oil embargo. Together, these 8 countries represent 14% of the world's population, but about 65% of the global economy.
Committed to the Millennium Development Goals since 2000, the G8 vowed in 2005 to raise their annual aid levels to US$50 billion by 2010, half of which was to go to Africa. But under current spending plans, the G8 will fall $40 billion short, according to the Africa Progress Panel which monitors national and international commitments to Africa.
"It is extraordinary to me," said Bono on 24 September, "that you can find US$700 billion to save Wall Street and the entire G8, but can't find US$25 billion to save 25,000 children who die every day of preventable, treatable disease and hunger. That's mad, that is mad."
"Bankruptcy is a serious business and we all know people who have lost their jobs," said the U2 lead singer in New York, "but this is moral bankruptcy."
The next day Bono (pictured, centre) took part in the launch of the Irish Hunger Commission Report. The extent of world hunger is getting worse rather than better.
Amnesty International has documented how human rights violations such as discrimination, the political manipulation of food distribution and the obstruction of humanitarian assistance have led to mass hunger in a number of countries including, in particular, in the Occupied Palestinian Territories, Burma, North Korea, Somalia, Sudan (Darfur) and Zimbabwe.
Economist Jeffery Sachs (third from right) describes the Irish report as "an intellectually coherent and comprehensive approach with specific and important commitments to address [the world food] crisis."
Lead author of the report, former Irish Agriculture and Food Minister Joe Walsh (second from right), says, "We must never lose our sense of outrage, our sense of anger that 862 million people do not have enough to eat, because if we lose our anger about this, then we have lost our humanity."