You could hardly ask for a more peaceful protest. Last year 14 anti-war demonstrators walked onto Creech Air Force Base in Nevada, USA, seeking to hand-deliver a letter protesting the use of drones.
Drones — known in military jargon as 'unmanned aerial vehicles' — are miniature flying machines with no pilot or crew on board (pictured right). They are controlled by long-distance remote as they fly over foreign lands spying, bombing infrastructure and 'incinerating' people.
The US uses drones in Afghanistan, Pakistan and Iraq, and they are controlled by defence personnel in places like Creech Air Force Base in the Nevada desert.
These supposedly targetted assassinations invariably kill people other than those intended. Even if there were no 'collateral damage,' assassinating people in this fashion constitutes extrajudicial execution.
"The United States has carried out at least 63 of drone strikes inside Pakistan this year," reported Democracy Now on 13 September.
"The drone attacks have killed hundreds of people during this past year, and few of them militants, most of them simple people," writes one of the defendants, Kathy Kelly (pictured left, in Iraq).
"Citizens have a duty, a responsibility to prevent it," says Kelly.
Co-defendant John Dear claims 40 other nations are 'racing' to develop their own drone programmes.
The 14 people who trespassed onto Creech Air Force Base in April 2009 faced trial last month in Las Vegas. Among them were 4 Catholic priests and a nun. Seven are active members of the Catholic Worker movement.
They had 3 impressive expert witnesses testifying in their defence: former US Attorney-General Ramsay Clark, retired US army colonel and former diplomat to Afghanistan Ann Wright, and Center for Constitutional Rights legal director Bill Quigley.
Prof. Quigley described how he taught his students the difference between law and justice, and urged them to close the gap between the two.
When teaching the law of trespass, Quigley always raises the possibility of the necessity defence, in which one is justified in trespassing onto private property to, say, save someone from a burning building:
"[People] are allowed to trespass if it's for the greater good — and there are certainly exceptions [to the law] when there is an emerging, urgent need."
Retired Colonel Wright took to the witness stand to describe the culture of the armed forces and how "soldiers need to hear more opinions from outside the military" to help them decide whether they should follow orders that may be illegal.
Some 50 supporters filled the Clark County courtroom where traffic offences and other misdemeanors are the more usual fare. After closing statements, judge William Jansen (left) addressed the courtroom, noting his recent 25th anniversary on the bench. Never in that time had he known a trespass charge to be contested in court.
Given this was the first time he had been asked to try a trespass case, and given the complex issues raised by the defence, Justice Jansen said he would need at least 3 months to study the issues and come to a decision. As a result, the case was adjourned until 27 January 2011.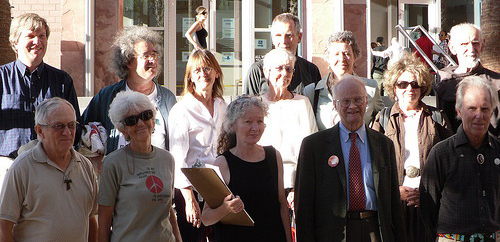 The 'Creech 14' still awaiting a verdict are: John Dear (a Jesuit priest, pictured top-left), Dennis DuVall, Renee Espeland, Judy Homanich, Kathy Kelly (pictured centre-front), Steve Kelly (a Jesuit priest), Mariah Klusmire (not pictured), Brad Lyttle, Libby Pappalardo, Megan Rice (a Society of the Holy Child Jesus sister), Brian Terrell, Eve Tetaz, Louie Vitale (a Franciscan priest, pictured top right) and Jerry Zawada (also a Franciscan priest).