The No-Nonsense Guide to Human Rights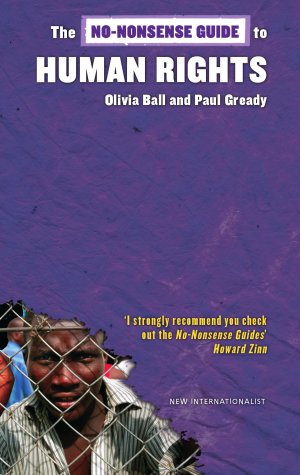 by Olivia Ball and Prof. Paul Gready, Director of the Centre for Applied Human Rights at the University of York in the UK.
With a foreword by Nobel Peace Prize Laureate, Desmond Tutu.
". . . by far the best condensed summation of the modern human rights movement anywhere."
– Law Institute Journal, 2007
Human rights hold profoundly radical potential, by contesting power and asserting the equality and dignity of every last person. Touching almost every aspect of life, they suggest a way of living together in peace, dignity and freedom. Human rights constitute the moral language of our age and cannot be ignored.
The No-Nonsense Guide to Human Rights is the perfect starting point for anyone wanting to get into human rights, with plenty to interest the seasoned activist. Written by experienced practitioners and human rights educators, this is a power-packed pocket handbook of history, philosophy, politics, law and more – all the essentials to understanding and using human rights, from the basics of what our rights are, to how to beat world leaders at their own game.
It examines important critiques of human rights, from feminists and Marxists to cultural relativists and tackles contemporary controversies making headlines. Should rights be sacrificed in the fight against terrorism? Can torturers perform a public service? Should human rights take precedence over the environment? What good are rights for famine victims, or tsunami survivors? What do rights have to say about the misery and injustice caused by corporations? What about rights violated in the home? Do refugees have rights? Why should Donald Rumsfeld consult his lawyers before holidaying abroad? Is a just peace possible? Or a just war? Moreover, how can rights be made real?
This guide for the 21st century examines the emerging terrain of global civil society, covering cutting-edge approaches to activism as well as the tried and true techniques – and their pitfalls. You will find out how to take a complaint to the United Nations, where to find the treaties your government has signed but might wish it hadn't, and how to compile a shadow report when your country's human rights performance is assessed at the highest levels. Read about how to secure international support for your campaign and successful ways activists have avoided being killed.
The text is enlivened with real-life stories from around the world: the voices of people living the daily reality of human rights violation and those who take on the abusers. Far from academic legalese, it is an accessible, practical handbook intended to equip and inspire without sacrificing intellectual rigour or shying away from the thorny issues.
An activist's and owner's manual of compelling importance to today's world.
Praise for
The No-Nonsense Guide to Human Rights:
"Accessible without becoming superficial, Ball and Gready have an engaging style and impressive command of this important subject. More than simply a practitioner's handbook, The No-Nonsense Guide to Human Rights makes an intellectual contribution of its own to the field. This pocket-sized book is important reading for the novice and equally useful for the seasoned human rights practitioner."
Mary Robinson
President, Realizing Rights: The Ethical Globalization Initiative
United Nations High Commissioner for Human Rights (1997-2002)
President of Ireland (1990-1997)
_______________________
"An indispensible exploration of human rights in our time, not only for beginners, but also, I suspect, for many activists who will be challenged by the complexity with which this guide addresses our current dilemmas."
Ariel Dorfman
Chilean writer and human rights activist
_______________________
"I am full of admiration for the richness and variety packed in to a relatively short text. I only wish that I'd had something like this to read when I was starting out! I'm recommending it to all my students."
Dr Brian Phillips
Senior Lecturer in Human Rights Practice and Course Chair of the MA in Humanitarian and Development Practice
Oxford Brookes University
_______________________
"I commend to you The No-Nonsense Guide to Human Rights as a call to question, to think, to act, and to contribute."
The Most Reverend Desmond M. Tutu
Anglican Archbishop Emeritus of Cape Town
1984 Nobel Peace Prize Laureate
_______________________
Paperback, 144 pages (ISBN 1904456456)
$12 USA
$15 Canada
£7 UK
$25 Australia
$22 Aotearoa/NZ

Published in English by New Internationalist (2nd edn, 2009) and in Spanish by Oxfam Spain (2007) under the title, Los Derechos Humanos.
English-language editions available from New Internationalist, Amnesty International and Amazon.
Spanish-language edition available from Libreria Compas and La Isla Libros and all good bookshops.